US Triathlete Chris Lieto, Desiree Dicker and Japanese Triathlete Naomi Imaizumi, sponsored by Astavita®, took part at Ironman Hawaii World Championship, held at Kona , Hawaiion October 13th, 2007.
This world class event attracted almost 2,000 people from all over the world to the Big Island, Hawaii. The race includes a 3.86 km ocean swim, 180.2 km bike and 42.4 km run.

Chris Lieto finished in 6th place of the pro-men's category with an overall time of 8 hours 25 minutes and 49 seconds, his best position in his carrier. For Lieto, it was second time to be in top 10 at Ironman World Championship. "Taking astaxanthin is a huge success to me. It really helped me to prepare the best I could for recovery and to keep everything so smooth" says Lieto.

Desiree Ficker finished in 40th place of the pro-female's category. This year, unfortunately many pro triathletes including Desiree had stomach problems. Ficker says she will be in good shape for the next race and plan a come back to next world championship. Imaizumi finished in 25th place in the pro-women's category; the top female Asian to reach the finish line again.

Astavita® Congratulates Lieto, Ficker and Imaizumi on behalf of Fuji Chemical Group and wishes them more success in the coming races.

Chris Lieto, Desiree Ficker and Naomi Imaizumi are professional triathletes sponsored by Astavita®, Fuji 's global branded supplement Astavita® contains AstaREAL® astaxanthin.

Astavita® is a highly quality astaxanthin supplement marketed in the USA (Astavita), Europe (BioReal Sweden AB) and Japan (NatuReal Corp).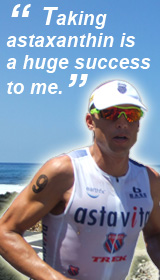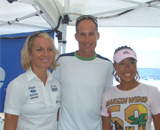 From the left, Desiree Ficker, Chris Lieto and Naomi Imaizumi