Introduction
Figure 1. How natural astaxanthin contributes to a weight management.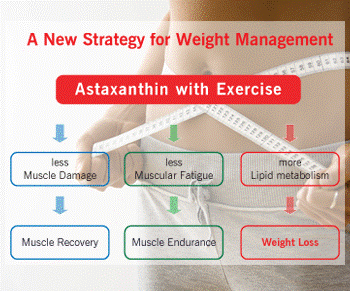 Weight management generally involves two things: i) ingesting less calories and ii) burning more calories. A sensible dietary choice helps with the former and new research published suggests by supplementing natural astaxanthin into the diet may help with the latter in two ways. The first is improvement of lipid (fat) metabolism and the second is increased muscle endurance and recovery (Figure 1). The combination of these two effects could result in losing more body fat, avoiding rebounds and enjoying a more rewarding exercise experience. In this issue, we explain how natural astaxanthin may affect fat metabolism. Next month part 2 covers muscle endurance.

Improved Lipid Metabolism
Figure 2. Results of a 60-day high-fat diet study in mice. Astaxanthin reduced bodyweight increase dose dependently when compared against control (Ikeuchi et al., 2007).
<![if !vml]>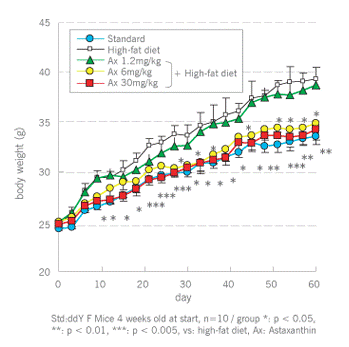 <![endif]>
Ikeuchi et al.,1 demonstrated that astaxanthin inhibited bodyweight gain in a diet which contained ten times the amount of fat (without changing the energy intake) when compared to the controlled group (Figure 2). The sixty-day study revealed several significant improvements such as total body weight (15% less), adipose tissue (34% less), liver triglycerides (58% less), plasma triglyceride, liver weight and total cholesterol. In addition, it appears that weight-gain and adipose tissue gains were suppressed in a dose dependent manner. Based on the respiratory quotient, the inhibition of weight-gain may be linked to increased thermogenesis and fat utilization.

Other studies concluded that natural astaxanthin in combination with exercise had the greatest effect than with exercise or supplementation alone2,3,4. Table 1., shows significant reduction of body fat and body weight. The working theory for body fat reduction is increased lipid metabolism in muscle and synergy with exercise. Astaxanthin's powerful antioxidant property5 also appears to protect muscle mitochondria and its components against oxidative stress such as enzymes located in the membranes of mitochondria. Oxidative stress generated as a by-product during energy generation can impair lipid metabolism in mitochondria. One of these enzymes is CPT I and it imports lipids into the mitochondria to be used as fuel for generating energy2. Another mitochondrial enzyme is 3-HAD, which is involved in the metabolism of fatty acids in the â–oxidation step3. These studies provide further evidence to support the idea that astaxanthin increased the utilization of fats as the energy source after respiratory exchange analysis2,3,4. Therefore, it can be said that natural astaxanthin in combination with exercise promotes lipid metabolism or "fat-burning".

Conclusion
Natural astaxanthin has been shown to inhibit weight-gain and other markers linked with a high fat diet. Furthermore, astaxanthin in combination with exercise is even more effective in reducing weight because of astaxanthin's high antioxidant capacity, protective effect during energy production in mitochondria and fat burning effect.Successful weight management is challenging because of the modern lifestyle and the dietary choices that surround us. However, a program that combines sensible food intake levels, exercise routine with natural astaxanthin makes such goal a realistic one.