Long-nurtured inorganic synthesis technology for achieving rapid oral disintegration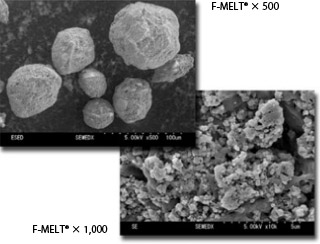 F-MELT® is a spray-dried excipient used in orally disintegrating tablets that contain saccharides, disintegrating agent, and inorganic excipient. Orally disintegrating tablets can be easily manufactured through direct compression only by adding F-MELT® to the active ingredient and lubricant.
Characteristics of F-MELT®
Characteristics
No.
Description
SD particles having both appropriate molding property and disintegrability
1
Orally disintegrating tablets can be conveniently manufactured by direct compression
2
F-MELT® possess good molding property that is well balanced with disintegrability. Its disintegration time is less than 30 seconds.
3
Particles are spherical in shape, heavy, and have a high fluidity.
Broad applicability
4
Customization is possible to meet customer needs.
Product tailored to global market
5
The pharmaceutical additives used in F-MELT® conform to pharmacopeias of major countries. (Patent acquired in Japan, India, and China, and filed in other overseas countries)
Easy to use and highly cost-effective
6
Since the pre-mix (basic design) is available, the time of drug development can be shortened.
Orally disintegrating tablets can be manufactured through direct compression by mixing F-MELT® and an API. Addition of excipients, changing the lubricant or method of lubrication can overcome problems associated with tablet hardness and disintegration times.