Our Values
Fuji Chemical Industries Co., Ltd. has been guided by our corporate policy, "Creativity and Contribution", for over 60 years. To keep pace with today's fast changing business environment and challenges, we released a new mission statement in July, 2010 to become more competitive and grow further in our business. It reflects our common goal to achieve global leadership irrespective of nationalities and areas of expertise. More than 60 years ago, our founder established the guiding spirit, "contributions to the society in our original ways". By binding to the mission statement, we are raising the bar for each employee to meet the current demands of our business. We shall tackle our daily tasks with passion and challenge to materialize the vision and contribute to the success, both individually and collectively.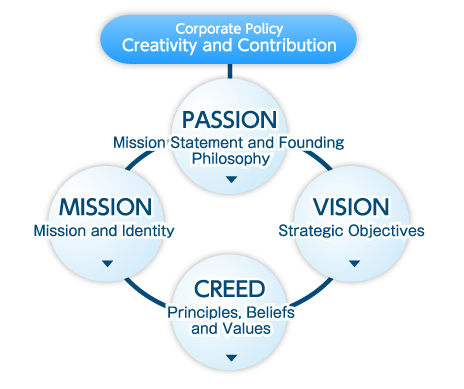 Contributing to society in creative ways

The Fuji Chemical Industries Group is strongly committed to improving human health and society through our business operations. We are also passionate about leveraging our imagination and creativity to manufacture original products.

Be the world's foremost anti-aging & health care innovator

Through our innovative products and services in the fields of anti-aging and healthcare, we aim to enhance quality of life and maintain human health - the individual's most precious asset and society's source of vitality.

Become the global market leader in our core business

We aim to become the global market leader in our core businesses, developing niche markets with the potential for future growth.

The markets in which we intend to become market leaders are those of anti-aging, excipients for drug delivery systems (DDS), and bulk pharmaceutical/pharmaceutical spray drying.
We have positioned astaxanthin as the most effective substance in the field of anti-aging, and are committed not only to delivering astaxanthin to the market and developing products based on this substance, but also to raising awareness among consumers.
We will develop excipients and inactive ingredients in support of DDS to meet the market needs of various countries and regions, including aging societies and emerging nations.
Leveraging the relative novelty of closed spray dryers along with our proprietary expertise, we will deliver quality, reliable pharmaceutical spray drying solutions to the market.

Promise|Customer Satisfaction

As R&D pioneers in the field of life sciences, we will strive to enhance customer satisfaction by continuing to provide our customers with unrivaled new value and potential.

Innovation|Approach to Technical Development

By aspiring to contribute to society through products and services of the highest quality, and by emphasizing innovative and creative ideas, we aim to blaze a new trail while constantly breaking down the barriers to technological innovation.

Future|Social Responsibility

Our earnest desire to make a positive contribution to the world has been at the cornerstone of our corporate activities since our founding, and lies at the heart of our highly transparent and equitable code of ethics in order to meet society's expectations and trust.

One Heart|Developing in Unison with Our Employees

We value the individuality and originality of our employees, and aim to achieve success in the global market together with our employees by fostering a corporate culture which promotes manufacturing with an emphasis on inspiration.

Challenge|Willingness to face new challenges

With passion and high aspirations, we will constantly pursue new challenges in the study of cutting-edge technologies and manufacturing while maintaining an optimistic outlook without fear of failure.