Drug Intermediate (Functional APIs)

Drug Intermediate (Functional APIs)
Fuji Chemical's expertise in developing functional APIs by value addition is based on 3 strengths
Fuji Chemical can offer manufacturing services for functional APIs on the basis of following 3 strengths:
1. Accumulated knowhow on SD manufacturing process
2. Processing knowhow based on the structures of APIs deduced through API/drug production.
3. Drug designing technology that can maximize the characteristics of individual excipients.
By assimilating these 3 strengths related to drug-designing technology and based on the properties of excipients, we can provide functional APIs in response to customer needs and add new values to pharmaceutical products.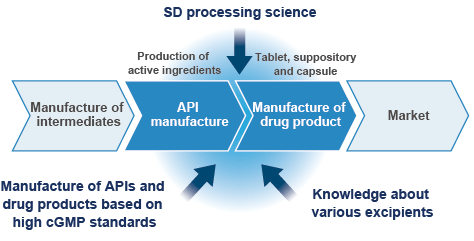 Examples of enhanced functions

| | |
| --- | --- |
| Enhancement of solubility | Remarkable enhancement of solubility and bioavailability by converting crystalline APIs into amorphous, nano-particles, or solid dispersions. |
| Improvement of compression and molding property | Compression property and tabletability of APIs can be improved. |
| Powderization of oily substance | Any oily APIs can be converted to powder. |
| Controlled release | Controlled release can be possible by micro-encapsulation. |
| Taste masking | Bitterness of API can be controlled by micro-capsulation. |
| Stabilization of APIs | The volatility of a substance can be decreased and the stability of APIs against light or oxygen can be increased. |